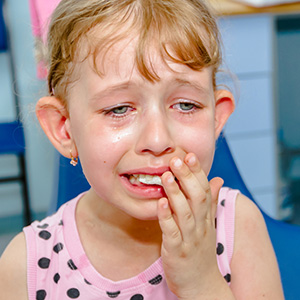 The National Safety Council has designated June as National Safety Month. A key component of staying safe is being prepared for emergencies, and this includes dental emergencies. Would you know what to do if you suffered any of the following dental mishaps?
Chipped tooth: One common dental injury is a chipped tooth. If this happens to you, save the missing chip if possible because we may be able to bond it back onto the tooth—but don't be tempted to glue the chip back on by yourself! However, even without the missing chip, the tooth can most often be repaired with bonding material.
Cracked tooth: If you crack a tooth, rinse your mouth with warm water. If it is bleeding, hold a clean washcloth or gauze to the area until the bleeding stops, but don't wiggle the tooth around or bite down hard. Keep in mind that the sooner your tooth is repaired, the better. Depending on how bad the crack is, if the tooth can be treated, it will most likely continue to function pain-free for years to come.
Displaced ("luxated") tooth: If an injury causes your tooth to become loose, shoves it sideways or pushes it into or out of its socket, don't try to force the tooth back into position on your own. Instead, call the dental office right away and leave it to us to bring the tooth back into its proper place and determine the extent of the injury.
Knocked out tooth: If a permanent tooth is knocked out of your mouth, pick it up without touching the root and rinse it off with cold water, but do not scrub. For the best chance of saving the tooth, place it firmly back in its socket within five minutes and hold it in position for a few minutes. If this is not possible, keep the tooth between your cheek and gum or in a glass of cold milk so that it doesn't dry out. Call the dental office immediately.
If a baby tooth is knocked out, there is no need to place it back in the socket since baby teeth are not reattached. However, it is still important to have us examine the injury.
Being prepared for dental emergencies can help save a tooth as well as avoid more costly dental treatment down the road. But no matter what type of dental injury you have, it is important to come in for a consultation as the injury may extend beyond the part of the tooth that is visible. With today's materials and technology, there's a very good chance your smile can look as good as before—and often even better!
If you have questions about dental injuries, please contact our office or schedule a consultation. To learn more, read the Dear Doctor magazine articles "Trauma and Nerve Damage to Teeth" and "Artistic Repair of Front Teeth with Composite Resin."