Your Doctor's in Suwanee, GA
The brief descriptions below are designed to familiarize you with our staff's training, professional credentials and work experience.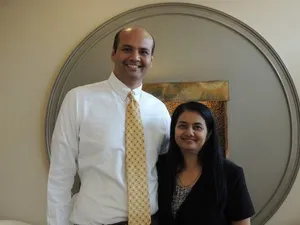 Drs. Uday and Shetal Parikh
Dentist in Suwanee, GA
Dentistry 4 You
Dentistry4You, a Cosmetic and a Family Dental Practice has a great team led by Drs. Uday and Shetal Parikh. They have a family friendly, state-of-the art dental practice since 2007, having taken the Suwanee motto of "Live, Work and Play" to heart.
The doctors and their team's mission is to provide excellence in dentistry in an environment of care, trust, comfort and always putting the patient first.
They spend many hours on training themselves and their team members through continuing education courses, seminars and in-office trainings, thus excelling in providing the most advanced care in cosmetic, general and sedation dentistry.
Dr.Uday is a certified Invisalign Preferred Provider, certified Oral Conscious Sedation provider. Dr Shetal Parikh has trained in Dental Implants from the American Dental Implant Association.
Both Drs. Uday & Shetal Parikh graduated from New York University College of Dentistry in 1999. Immediately after, Dr Shetal joined a General Practice residency program at the Bronx Lebanon Hospital and Dr Uday was at Private practice in NYC.
They are proud members of the American Dental Association(ADA), Georgia Dental Association(GDA), Northern District Dental Society(NDDS), and Gwinnett Chamber of Commerce.
Dr. Uday, Dr Shetal and their entire team at Dentistry4You believe in giving each and every patient individual care and attention while working in a relaxed and a professional atmosphere.
Outside of the office, they both enjoy spending time with their two daughters, Pooja, who is at Georgia Tech majoring in Bio Chemistry and Mili, who will be attending North Gwinnett. As a family, they love reading and traveling.
They both believe in giving back to the community and have been associated with Operation Gratitude Giving Kids A Smile Day, BAPS charities among others.